Huawei Band 6 full specifications and price in Kenya
Huawei Band 6 Price in Kenya is 6,999. The Huawei Band 6 is a good option if you're looking for an affordable fitness tracker. It is easy to use, lasts almost ten days (2 days less than Oppo band) on a single charge and packs a bunch of excellent fitness features.
HUAWEI Band 6 has a dynamic, lightweight design, 1.47"AMOLED display and 2-week battery life, with magnetic fast charging.
Price
KES, 6999
Display
Type.             AMOLED

Size.              1.47", 64% screen to body ratio

Resolution.    194*368 pixels, 282 PPI

Features
Accelerometer, gyroscope, heart rate monitor, sleep monitor, stress monitor, call reminder, automatic activity tracking, music control, alarm, weather, stopwatch, timer anti-lost, and more
Connectivity
Bluetooth.      5.0, BLE
Battery
Type.              Li-Ion 180mAh, non-removable
Colors
Amber sunrise, Forest Green, Graphite Black
Body
Dimensions    43*25.4*10.99mm

Weight           18g

Build.             5ATM Dust and Water-resistant
Huawei Band 6 is a huge step up from its Predecessor, Huawei band 4. This fitness tracker cum smartwatch comes with a 1.47-inch AMOLED Full Touchscreen display compared to its predecessor, Huawei Band 4. Its price in Kenya compares favorably with its competitor, Xiaomi Mi Band 5. It cuts above all other devices with similar specifications, features, and prices in the Kenyan market today.
Huawei Band 6 is very comfortable and lightweight. Huawei band 6 has a magnificent display and solid performance for its price. Huawei band 6 comes with a 14-day battery and 96 fitness modes. Huawei Band 6 boasts heath features; TruSeen heart rate monitor, TruSleep sleep monitor, TruRelax pressure monitoring, a continuous blood oxygen concentration monitor. The blood oxygen concentration monitoring is first for fitness bands and smartwatches at its price in the Kenyan market. In addition, Huawei band 6 provides Heart health screening together with sleep apnea risk screening.
Huawei Band 6 is compatible with both Android and iOS devices. Huawei band 6 also supports Bluetooth 5.0. This device is more of a smartwatch than a fitness tracker. At its price, the Huawei band six is shoulders above other devices with similar features in Kenya, and getting one would be a major scoop.
Display
Huawei Band 6 is a successor to the Huawei Band 4. Huawei band 6 has a notable improvement on the display. The Huawei band 6 comes with a 1.47- inch AMOLED touchscreen display which is similar to the senior Huawei Band 7. This is a significant step up from the 0.96-inch display of the Huawei band 4. Its display has a resolution of 194*368 pixels and 283 Pixels per inch density. These display specifications place the Huawei band 6 far ahead of its competition for the same price range in the Kenyan market.

Design
The Huawei Band 6 has a rectangular shape with 43*25.4*10.99mm dimensions which sets it apart from its chief competitor in Kenya, the Xiaomi Mi Band 5 that resembles a Pill. The Huawei band 6 has very slim bezels and a 64% screen-to-body ratio giving it a nice look for a Fitness band of its size and price in Kenya. Weighing a mere 18grams, the Huawei Band 6 is light and very comfortable. Huawei Band 6 has a single side button for navigation. The button is not rigid but clicks softly. The Huawei band 6 has a wide variety of Watch faces available via its watch face store. Huawei band 6's straps are light, soft, and comfortable. The straps come in different varieties in terms of style, color, and fashion. Huawei band 6 straps are made of skin-friendly material.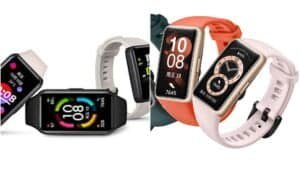 Fitness Features
Huawei band 6 offers wonderful and unique fitness features. These include;
 Continuous blood oxygen saturation monitoring. This is a first for Huawei fitness devices and trackers with the same price range as the Huawei band 6 in Kenya.
 TruSeen 4.0 Heart rate monitor.
TruSleep 2.0 sleep monitoring. This feature enables the user to maintain healthy sleeping habits and sleep cycles by monitoring the duration and quality of sleep.
TruRelax 2.0 pressure monitoring. This feature helps the user relieve stress by recording heart rate variability and providing the user's stress index.
Moreover, the Huawei band 6 has Heart health screening capabilities and Sleep apnea risks screening.
Activity Tracking.
Huawei band 6 is loaded with 96 sports modules compared to the 30 offered by the Mi band 5; its main competitor in the Kenyan market at its price range. This is quite impressive given that a smartwatch like the OnePlus watch offers 110 sport modes but at a comparably higher price. Huawei band 6 also provides standard notification, call, and message alerts from a connected phone. It has a remote camera shutter and music playback controls like the Mi Band 5.
Battery.
Huawei band 6 battery offers 14-days of regular use and 10-days of heavy use. Huawei band 6 offers magnetic charging like its competitor the Mi band 5.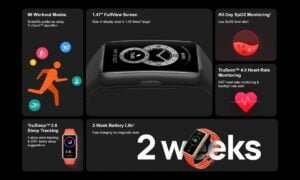 Connectivity.
Huawei band is compatible with devices running on Android 6.0 or later. Huawei band 6 supports Bluetooth 5.0
Huawei Band 6 Video Review: