MacBook Pro 14 2021 M1 Pro – MKGP3B  specs and price in Kenya:
The Apple Macbook Pro 14 2021 Price in Kenya is Ksh 278,000 for the 512 the GB ROM Variant.  TheMacBook Pro 14 2021 M1 Pro – MKGP3B is the gray colour option.
---
Apple MacBook Pro 14 2021 M1 Pro – MKGP3B –  14-Inch 2021 Price in Kenya and Specs:
| | |
| --- | --- |
| Price in Kenya |  278,000 |
| Release date | October 18th 2021 |
| Storage | 512 GB to 8TB |
| WebCam | 1080p FaceTime HD camera |
| Dimensions | 12.3 x 8.7 x 0.6 inches |
| Memory | 16GB to 64GB |
| Bluetooth | Bluetooth 5.0 |
| Battery size | 70W |
| Wifi | 802.11ax Wi-Fi 6 |
| Processor | Thunderbolt 4 (x3), HDMI, MagSafe 3, headphone jack, SD memory card slot |
| Ports | Thunderbolt 4 (x3), HDMI, MagSafe 3, headphone jack, SD memory card slot |
| Weight | 3.5 Pounds |
| Screen | 14.2-inch Liquid Retina XDR display (3024×1964 pixels, 254ppi) |
| Battery life (claimed) | Up to 11 hours of web surfing over Wi-Fi |
---
Apple MacBook Pro 14 2021 M1 Pro – MKGP3B – 14-Inch Display
Apple has inculcated its new Liquid Retina XDR displays in the 14-inch MacBook Pro 2021. This is the same mini-LED display technology that was marveled over in the 12.9-inch iPad Pro 2021, but now it's on a MacBook for the first time.
 It's a 14-inch mini-LED display that offers a 3024 x 1984 screen resolution, delivering 254 pixels per inch. It also incorporates Apple's ProMotion adaptive display tech, allowing it to achieve refresh rates of up to 120 Hz. And like the iPad Pro 2021, the 14-inch MacBook Pro's display can achieve up to 1,000 nits of sustained brightness, or 1,600 nits of peak brightness.
---
Apple MacBook Pro 14 2021 M1 Pro – MKGP3B – MacBook Pro 14-Inch Ports
Apple has built a variety of port options into the MacBook Pro 14-inch 2021. This is a total of 3 Thunderbolt 4/USB4 ports (which also support DisplayPort), 1 HDMI port, an SDXC card slot, and a headphone jack.
Apple has also reintroduced MagSafe charging with a new MagSafe 3 charging port on the left side. This is a welcome return to form, though you can still charge the 14-inch Pro via its Thunderbolt ports if you have to.
---
Apple Macbook Pro 14-Inch 2021 WebCam
Here Apple embeds a new 1080p FaceTime camera in the top bezel of the 14-inch MacBook Pro's display. It offers the same Apple silicon-powered advanced image processing as the 1080p camera built into the Apple iMac 2021 (24-inch), so it should deliver clear, vibrant images and video quality.
It is also a little more noticeable than most MacBook webcams. Apple has trimmed back the top bezel around the webcam housing, leaving a little notch. It's unlikely to cause any real usability issues, though it does give the MacBook Pro 2021 a more iPhone-like look.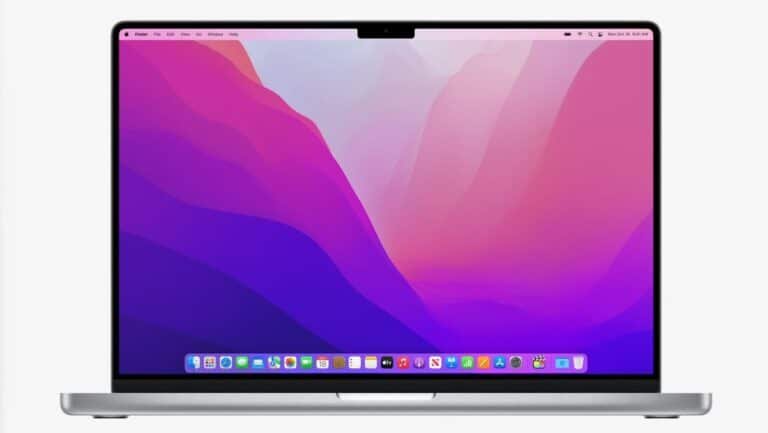 ---
Apple Macbook Pro 14-inch 2021 Battery LIfe
The new Apple MacBook Pro 14-inch 2021 is advertised as lasting up to 17 hours on a single charge while watching videos, which is a pretty bold claim. Since Apple has been more transparent than most laptop makers when it comes to battery life claims, it is likely you'll get over 10 hours of use out of this laptop when it's new.
It also supports fast charging, and Apple claims it can deliver up to 50% of a battery charge in 30 minutes. You can also charge it on the new Apple Studio Display.
---
Apple Macbook Pro 14-inch 2021 Performance
We all expected Apple to unveil this new MacBook Pro 14-inch 2021 alongside a new piece of Apple silicon, surprisingly they unveiled two: the M1 Pro and the M1 Max. 
The M1 Pro is the successor to Apple's remarkably powerful M1 chip, and it offers more CPU cores, more GPU cores, a better Media Engine, and more memory bandwidth than the already incredible M1 chip. The M1 Max is even more powerful than the Pro, and Apple's pitching M1 Max-equipped 16-inch Macbook Pros as the ultimate mobile video workstation.
 The M1 Max (which costs extra to put in your new 14-inch MacBook Pro 2021) offers the same 10-core CPU, but it has a 32-core GPU and twice the memory bandwidth of the M1 Max. It also offers 2 videos encode engines and 2 ProRes encode/decode engines, which should make it a beast in the video editing bay.
---
Apple Macbook Pro 14-inch 2021 Outlook
Apple's first-ever 14-inch MacBook Pro also looks like it could be one of the most powerful 14-inch laptops to hit the market this year. And now that it has one of Apple's Liquid Retina XDR displays built-in, it's probably going to be one of the brightest and most eye-catching MacBooks we've ever seen.
But while the beefy new M1 Pro/M1 Max chips and mini-LED displays have us very excited to check out the new 2021 MacBook Pros, don't overlook the small but welcome changes Apple has made to the design to make these MacBooks more usable Now there's a more useful array of ports, so media professionals should have an easier time moving photos and other assets back and forth between machines. 
---
OTHER LAPTOPS TO CONSIDER:
---
---
---
Apple Macbook Air 2020 (MWTL2) Core i3 – 8GB RAM – 256GB – Gold

Apple Macbook Air 2020